The Killer Kidz
Oct 23
[video]
Me & @missninasiegel In a #new #music #video titled #Warrior aka #Guerreiro directed by #kamalrobinson for his #film @fightdancesing #international #nyc #paris #igers #brazil #instago #instacool #instapic #ninsiegel #niamson
[video]
This women is a problem 🎬🎹🎤🎼 @missninasiegel #KKFOS #Thekillerkidz
Mar 02
Big #shout to my #Brother from another #Galaxy @coleydoom for hooking me up with some #SUPER #EXCLUSIVE #GALAXY #CLOTHINF from his clothing line @galaxyclothing ! #FOLLOW the #GALAXYGANG #MOVEMENT ! #THEKILLERKIDZ #MASTERSOFTHEUNIVERSE !!!! 🚀🚀🚀🚀🚀 (at Beyond The Stars )
Feb 22
Beyond The Hustle With Niamson | 'THE SINGLE DEAL FINALIST'
 

It's a single deal competition, one that can take you a step further to living up your dreams, or even get you through the door; at least be noticed as the artist who was one of the top 5 finalist in a competition, that allowed artist from all over the world to compete for a shot at winning a Single deal.  
(Source: culturalconnoisseur, via niamson)
#Top5 for #KevinNottingham #contest #vote for me #Niamson at KEVINNOTTINGHAM.COM
Jan 26
[video]
Dec 24
[video]
Nov 15
Listen To This Sick Remix Of Christina Aguilera's 'Your Body' via @MTVBUZZWORTHY -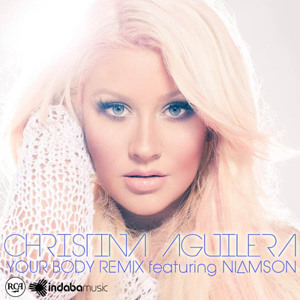 This remix of Christina Aguilera's "Your Body" RULES.
We're traditionalists around here: A movie sequel is rarely better than the original, pasta should only be eaten with marinara sauce (is that a weird one?), and remixes are almost never as good as the original song. But we stand corrected today, because we are full-on in lurrve with this remix of Christina Aguilera's "Your Body" by Niamson.
Listen to "Your Body (REMIX)" featuring Niamson after the jump.
Submitted as part of indabamusic's remix contest, Niamson's "Your Body" has a drowsier, more laid-back vibe than the original, plus that retro-sounding '90s synth doesn't hurt either! And did we mention that the winner of this whole shebang goes home with a whopping $5,000 smackers? We can't officially declare Niamson the victor just yet, we DO wish a hearty "good luck!" to everyone else who tries to beat him. And yes, you shoulddefinitely read into that. Also, we'd like to offer up this stunning Christina Aguilera "Your Body" GIF wall as a consolation prize to the second-place winner. It ALMOST compares to $5,000. And it will probably last longer, too.